For Us, Taekwondo is a Family Thing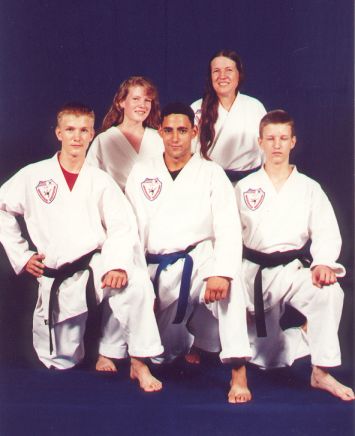 L. to r. Philip, Heidi, Ken, Pat, Victor Goltz

The Goltz children were homeschooled. As part of that, most of us got involved in taekwondo. It all started when Marti married Brian, who is very much involved in taekwondo, and it just sort of grew from there. Taekwondo became one of the things we did for exercise. Basketball, hiking, swimming, rockhounding, and horseback riding were the others. Since all the kids have grown, some people also do rock climbing, weightlifting, snowboarding, and skiing.
We have a number of people who have studied taekwondo, some of whom are still active. The rest mostly seem to want to get back into it. Some of us married into the family. Michael Rubke is the cousin of the Goltz kids. Philip has been teaching Ruth Williams, his wife. Here is how things stack up:
Philip Goltz, fourth degree black belt, certified instructor.
Marc Short, second degree black belt.
Victor Goltz, second degree black belt.
Pat Goltz, second degree black belt, assistant instructor.
Marti Malm, first degree black belt.
Heidi Short, recommended black belt.
Ken Goltz, recommended black belt.
Michael Rubke, sixth grade decided green belt.
Currently, Victor is in the army, in Iraq, Pat is studying under Lynda Hudman, Philip is studying and teaching at a school in New Hampshire, Michael is involved in other things, and just about everyone else is looking for a good school. August, 2010.
Update, 2013. Philip has a fifth degree black belt. As far as I know, no one is currently studying, though Pat plans to return when she is able. I don't know what rank Michael ended up earning before he quit. Victor is still in the Army, but is back in the United States and will be discharged soon, we think.
Family photos

Family1

Family2

Family3

Family4

Some photos were taken by David Dwyer. Others were taken by family members.




Total Surf Martial Arts





Background graciously provided by:


Other backgrounds graciously provided by: